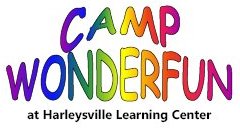 Sign up for Camp Wonderfun
Where the Fun Never Stops!!!
Harleysville Learning Center, established in 1992, provides life building experiences to infants, toddlers, and pre-school children, as well as safe day care services and a structured after school program.
The goal of the center is to make your child's first encounter with school a positive, enjoyable, and successful one. The entire staff strives to meet the physical, educational, social, and emotional growth of each child in a loving, friendly environment.
Options
Harleysville Learning Center offers full day care (5 to 10 hours per day) & half day care (under 5 hours per day)
Benefits
At the Harleysville Learning Center, you will find quality, caring teachers; clean, spacious classrooms; and large play areas. Here are some other facts you should know:
Dual licensing by:

The Pennsylvania Department of Human Services and
The Pennsylvania Department of Education

Convenient location (minutes from Harleysville, Lansdale, Souderton, Franconia, and Kulpsville)
Beautiful, 4.3 acre setting
Separate play yards for toddlers and pre-schoolers
Secure facility
Schedule your Appointment Today!
Harleysville Learning Center is a private, non-sectarian, co-educational, independent school. The admission policy is open to all children, regardless of race, color, or creed. Every child may enjoy the benefits of growing and developing under the optimal school conditions, and under the guidance of trained, experienced and loving teachers.